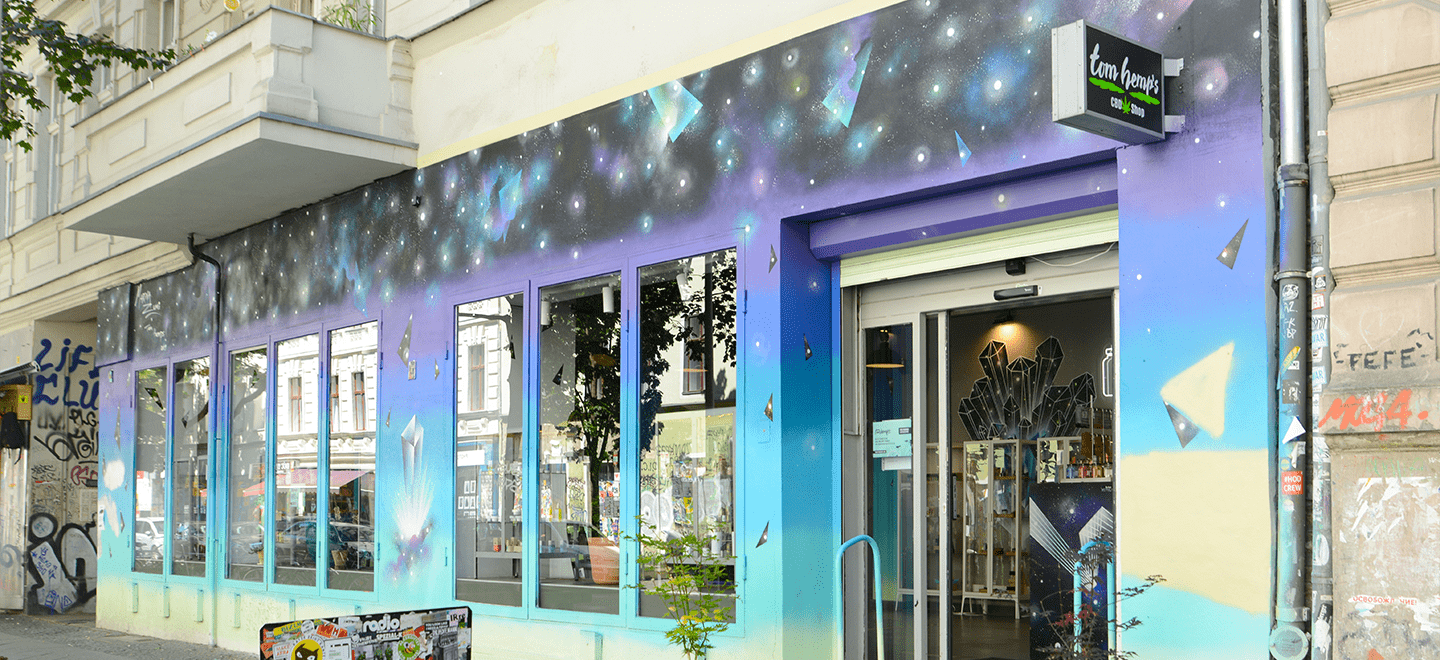 CBD Shop Berlin-Kreuzberg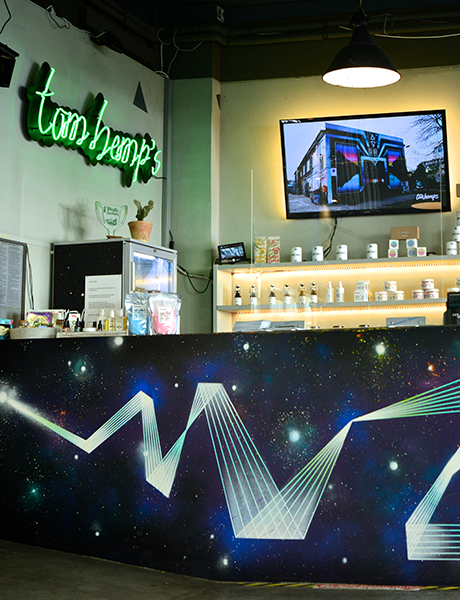 Visions come true
What started as a small café in the trendy district of Berlin-Kreuzberg has developed into a popular lifestyle brand within a few years: We are, live and love Tom Hemp's. We are all about CBD – because CBD is our obsession! In 2017, our Tom Hemp's CBD shop was founded in the heart of the capital.
On about 70 m² you will find everything that is good for body, mind and soul. What is waiting to be discovered by you on site?
In Tom Hemp's CBD shop in Berlin-Kreuzberg, you will find CBD-containing products from the world of body and face care. Creams and oils for extensive self-love. Tom Hemp's Clothing and highlights from the CBD pleasure world are of course also represented. Already got a taste for it?
If you feel like relaxing and living out your work-life balance to perfection, Tom Hemp's is the place for you! Our staff at the Tom Hemp's store in Berlin-Kreuzberg can help you with that, too. Don't be shy, feel free to ask!
Out in Space: Our eye-catcher in Berlin
How to find Tom Hemp's in Berlin-Kreuzberg? You can't miss our CBD store. The eye-catching facade of Wrangelstraße 57 immediately catches the eye and is literally out of this world. Totally spaced out and definitely worth a visit!
If the facade has already convinced you, you can prepare yourself for something inside. Our modern interior has many surprises in store. Colorful fluorescent tubes and fancy decorative items are by no means everything. The crystal designs on the walls are real eye-catchers. You like it? Then leave a message in our guestbook.
The best from us to you in our CBD shop Berlin-Kreuzberg
Tom Hemp's CBD shop in Berlin-Kreuzberg may have started small. Did you know, for example, that it was not only one of the first CBD stores in Europe, but also the very first in all of Germany? And look what has become of him and his successors. In the meantime, you can even find our CBD stores in Italy and Spain. Tom Hemp's goes international, baby!
But we never lose sight of one thing – our mission. At Tom Hemp's you will find CBD in all its facets made accessible to the public. Our products are EU-certified and free of pesticides and herbicides. Quality is the top priority in our green cosmos.
You want to see this for yourself? Absolutely! Stop by our Tom Hemp's CBD Shop in Berlin-Kreuzberg and experience the carefree lifestyle first hand.
We are looking forward to your visit!
Your Tom Hemp's Family
CBD Shop Berlin-Kreuzberg
Address
Wrangelstrasse 57
10997 Berlin
Germany
Open Hours
Monday to Saturday
09h00 - 21h00