Coconut, olive, walnut, soy, sunflower… Pretty much every plant containing fat also claims its own oil. For a long time, however, one remained an outsider, although it fulfills a multitude of criteria that make it a flagship product, it is primarily concerned with health-promoting aspects. It is derived from the very plant that we are also pretty much all about: hemp. We have dedicated this blog post to the power ranger in the kitchen, including some recipes for cooking with hemp oil.
ROCKING THE POTS – BENEFITS OF HEMP OIL
Hemp oil is a healthy and nutrient-rich oil extracted from the seeds of the hemp plant. Nutty-sweet in taste, it is rich in unsaturated fatty acids and contains a variety of minerals and vitamins E and A. A natural antioxidant that contains more omega-3 fatty acids than any other oil, hemp oil is something of an underdog among superfoods.
In addition, hemp oil also contains the rare gamma-linolenic acid (GLA) and stearidonic acid. GLA is a special form of omega-6 fatty acid that is only found in a few vegetable oils and is important for cardiovascular and immune health. Stearidonic acid, on the other hand, has anti-inflammatory properties and can help regulate blood sugar levels.
If this makes you think of THC and intoxication: STOP in the name of oil! It has absolutely nothing to do with that. Nix. Nada. Niente. Because it does not contain tetrahydrocannabinol (THC), the element of the plant that is responsible for the psychoactive part. Obtained from the seed of commercial hemp, it does not make you "high" and is also different from CBD oil, which in turn is made from a resin from CBD-rich cannabis flowers.
COLD-PRESSED. EATEN COLD
Hemp oil is obtained by gently cold-pressing the seeds. This makes it particularly suitable for preparing cold dishes, such as salads, smoothies and dips. Unlike other oils, it retains its natural taste and smell, which makes it a popular ingredient in vegan cuisine.
However, the oily wonder is not suitable for frying or cooking. It may be heated to a maximum of 160 degrees so as not to lose its characteristic taste and, to some extent, the nutrients it contains. But it is recommended for refining warm dishes. Stored in a cool and dark place, the opened bottle should be used within a few weeks.
OUR FAVOURITE RECIPES WITH HEMP OIL
Since we want to do more than just recommend it, we have tried out a few recipes ourselves in the kitchen. We don't want to withhold our favourites from you. But because patience is not always easy and waiting was not an option, we prepared a small bowl of our Hemp Seed Oil Gold with the addition of a few drops of pumpkin seed oil, cut some white bread and started to dip…
And with that, it's time to put our cooking skills to the test. So hello Munchies, let`s get you covered! Here are our Tom Hemp`s Munchie dishes.
SMOOTHIE BOWL WITH HEMP OIL
Ingredients:
1 banana
1 avocado
1 handful rocket
½ apple
4 pitted dates
Vegetable milk (coconut in our case)
Peel avocado and banana, add to blender with a splash of hemp seed oil gold. Chop the apple and add the remaining ingredients. Blend until the desired texture is achieved.
Pour into a bowl and garnish with blueberries, coconut flakes, hemp seeds and chia as desired.
SPINACH SALAD WITH GOAT CHEESE AND HEMP OIL DRESSING
Ingredients:
Spinach
Rocket salad
Goat cheese
Sweet potato
Beetroot
Caramelised pear
Candied walnuts
Cranberries
Dressing:
Preparation:
Cut the sweet potatoes into chunks and preheat the oven to 180 °C. Spread them on a baking tray, drizzle with olive oil and season with salt and pepper. Roast for approx. 40 minutes.
Peel, core and halve the pears. Sprinkle it with sugar and roast on the baking tray in the oven for 20 – 25 minutes.
Roast the almonds until golden brown and add the sugar and wait until it has melted. Leave to cool.
Mix all the ingredients for the dressing.
Place the salad in a bowl and add the remaining ingredients and dressing.
PASTA WITH HEMP PESTO
Ingredients:
Pasta
Cherry tomatoes
Rocket salad
Pesto:
10g pine nuts
Garlic
Lemon juice
Pinch of salt
1 bunch basil
1 bunch chives
Preparation:
Cook the pasta. Wash and halve the tomatoes and sauté them briefly in a pan with oil. Deglaze with water and season with salt and pepper.
For the pesto, mix all the ingredients to the desired texture in a blender.
Arrange the pasta, rocket and tomatoes and add the pesto.
MASCARPONE WITH HEMP CRACKERS
Ingredients:
350g mascarpone
60ml elderflower syrup
300g strawberries
60g sugar
50g hulled hemp seeds
Drops of hemp oil gold
Preparation:
Mix the mascarpone with the syrup and chill. Melt sugar in a pan and stir in hemp seeds, caramelise. Pour the mixture onto baking paper, cover with another and roll out thinly. Leave to cool.
Wash and chop the strawberries.
Fill glasses with strawberries and mascarpone cream and refine with a few drops of Hemp Seed Oil Gold. Serve with hemp crackers.
We hope we've met your taste, because there's no one we'd rather share our table with than you. The best thing about experimenting behind the cooker, even after this day, is that there are no limits to ideas and everything is a matter of taste. Hemp oil has cooked its way into our hearts and we won't want to miss it in our kitchen from now on.
And even if we feel a bit like a battle when we look at the pots and bowls, there are still hemp nuts… and Hemp Protein. But what exactly we're going to come up with now will have to wait. Because it's only supposed to not rain when the plates are empty and we don't want to be responsible for a shower in any way.
So there's nothing left for us to say but: Bon appétit.
YUMMIE..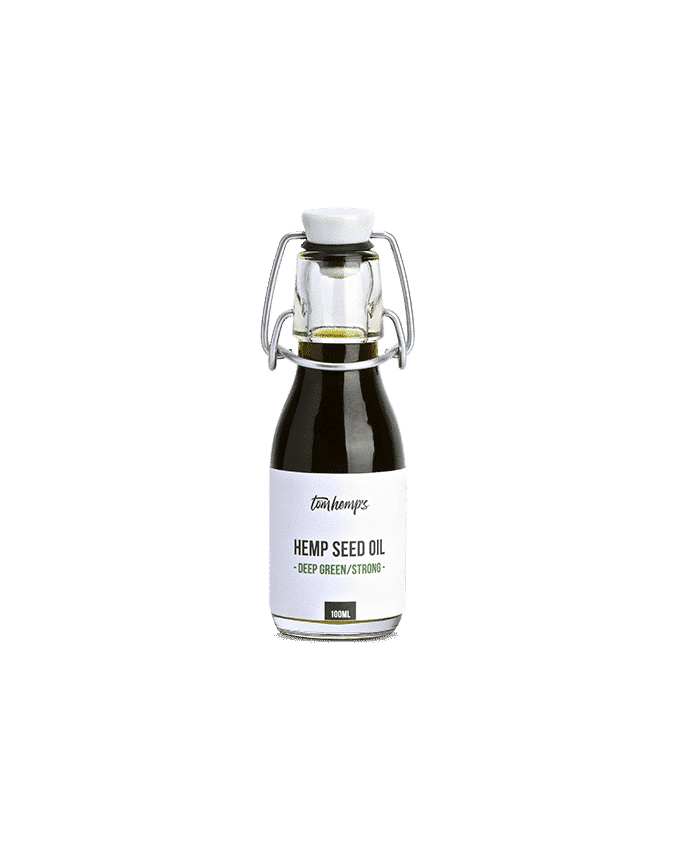 Tom Hemp's
Hemp Seed Oil Deep Green
€

7,25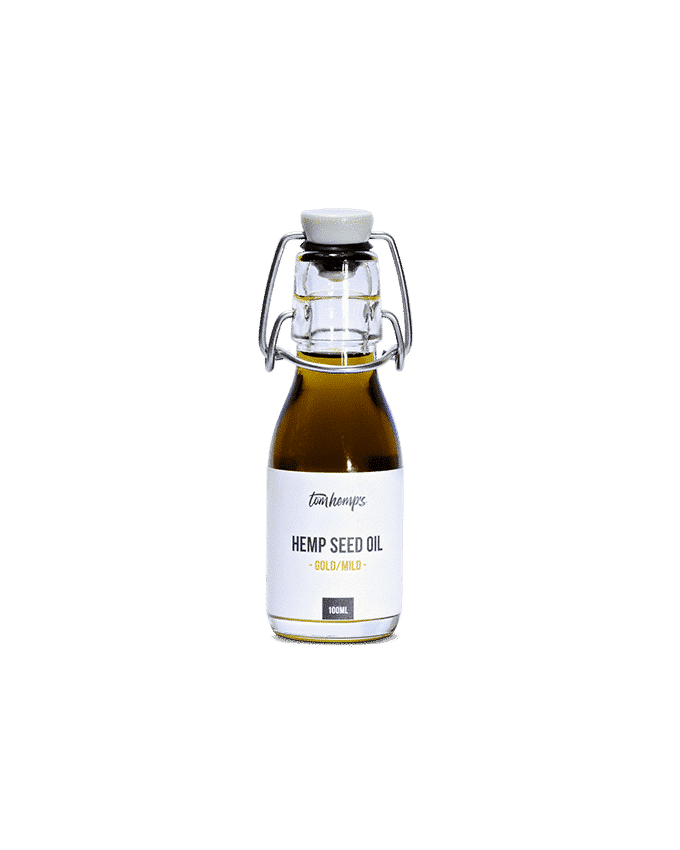 Tom Hemp's
Hemp Seed Oil Gold
€

7,90
Tom Hemp's
Hemp Protein
Out of stock
€

7,95
Photo: kostrez / Shutterstock