Allowing your body, but also your mind, to relax is often lost in the stress of everyday life. You have to consciously take the time to focus on your inner center. Meditation is a popular way to do this. How CBD can help you meditate, we know from Tom Hemp's.
What is meditation?
A general definition of meditation is difficult to formulate. Because meditation can mean something different for each person. The term is derived from the two Latin words "meditatio" (thinking about) and "medio" (the center).
Basically, meditation has one overriding goal: to reach a deep state of awareness. During meditation, you relax your mind and open yourself to the silence around you. Common techniques to find inner peace are various concentration and breathing exercises.
What are the health benefits of meditation?
Meditation has a positive effect on body and mind. Numerous national as well as international studies have already dealt with the influence of mediation on physical as well as mental health. The results are mostly relevant.
For example, it can be said that meditation is a real stress killer. By meditating regularly, the level of the stress hormone cortisol in the body decreases and you generally feel more balanced.
Not only the stress level decreases, but also increased blood pressure can be regulated by regular meditation. Do you often suffer from nagging headaches and migraines? Meditation can also help here and reduce the intensity of the pain.
In general, meditation helps you to find inner peace and balance. You sleep better and don't immediately hit the ceiling in stressful situations. Meditators are often said to be emotionally stable, because they know how to be mindful of themselves, their thoughts and their environment.
How does CBD oil intensify your meditation?
Meditation is an intense experience. If you find it difficult to find focus and calm down from time to time, you don't have to bury your head in the sand right away. Not every moment is ideal for meditation. To support you on your journey into thoughtlessness, CBD oil can be a suitable support.
It is best to choose a CBD oil rich in terpenes. Terpenes are natural components of the hemp plant and can intensify your meditation. With their powerful aromas, they help you to fully concentrate on your being and your breathing.
Especially the terpenes limonene and caryophyllene are said to have a positive effect on the ability to concentrate. The terpenes myrcene and linalool, meanwhile, are said to have a particularly relaxing effect.
The positive effects of CBD for meditation at a glance
Both CBD and meditation help you to switch off. If you combine CBD and meditation, they form the perfect symbiosis. What benefits CBD oil brings to your meditation, we have summarized from Tom Hemp's:
CBD can relieve stress
With too many thoughts and worries in your head, it's hard to switch off. Therefore, CBD is useful before meditation to let go. CBD oil reduces stress and helps reach the state of deep relaxation faster.
CBD can boost concentration
Meditating only serves its purpose when you fully engage in it. Maximum focus is required to direct your thoughts and skillfully block out distractions. CBD oil increases your ability to concentrate and helps extend the duration of meditation.
CBD can have a calming effect
CBD oil during meditation can have a calming effect. The calming effects of CBD apply to both the body and the mind. The calmer you become, the more you can focus on your awareness and existence.
CBD creates an inner balance
During mediation, your body and mind are in harmony. With CBD oil, you can intensify the moment and create an inner balance that will outlast meditation and continue to accompany you in everyday life.
How can CBD be integrated into your rhythm?
How CBD affects the body and the way you feel can vary from person to person. The best rhythm to integrate CBD into meditation and everyday life, you must therefore find out and determine for yourself.
It can take a few minutes for the body's endocannabinoid system to respond to the natural active ingredient of the hemp plant. As can be read from various testimonials, half an hour to an hour is common. In any case, you should take this time before meditating.
You can prepare a soothing meditation tea with CBD oil or drip the CBD oil directly under your tongue. The sublingual intake has the advantage that the active ingredient is absorbed directly through the oral mucosa and reaches the bloodstream without detours.
For whom is the combination of CBD and meditation suitable?
CBD and meditation is a symbiosis that can be of great help to both beginners and experienced meditators. In general, you will benefit from the calming effect of CBD. This is because CBD oil can help you relax.
Especially beginners can take advantage of this effect. CBD oil can make you concentrate better on meditation. You push irrelevant thoughts to the side. This makes it easier for you to get started and to persevere.
If you already have experience with meditation, CBD oil can also help you. Through the increased ability to concentrate, for example, the duration of the meditation units can be extended. In this way, you establish an effective meditation practice minute by minute, which leads to maximum relaxation and mindfulness.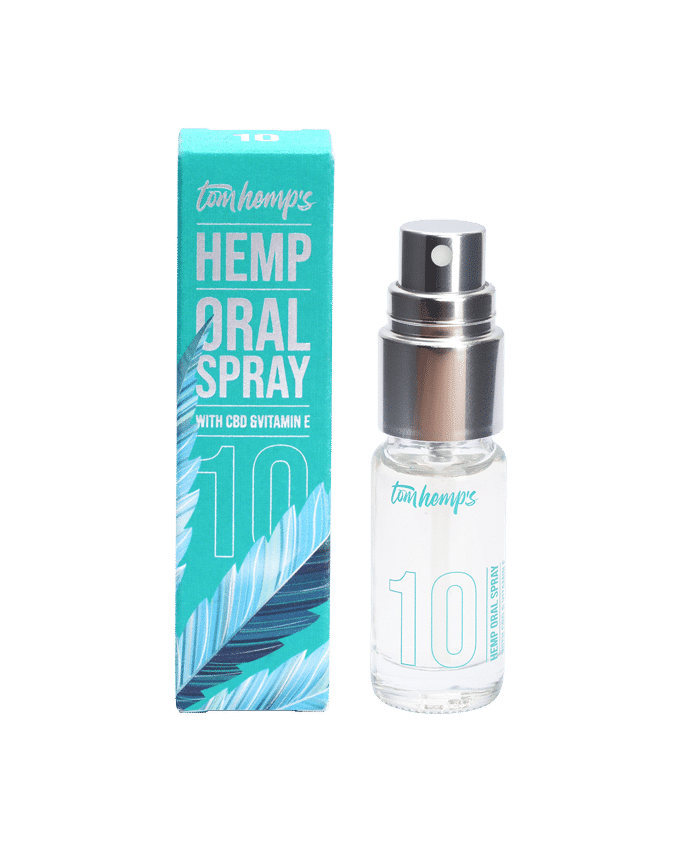 Tom Hemp's
Hemp Oral Spray 10
€

55,90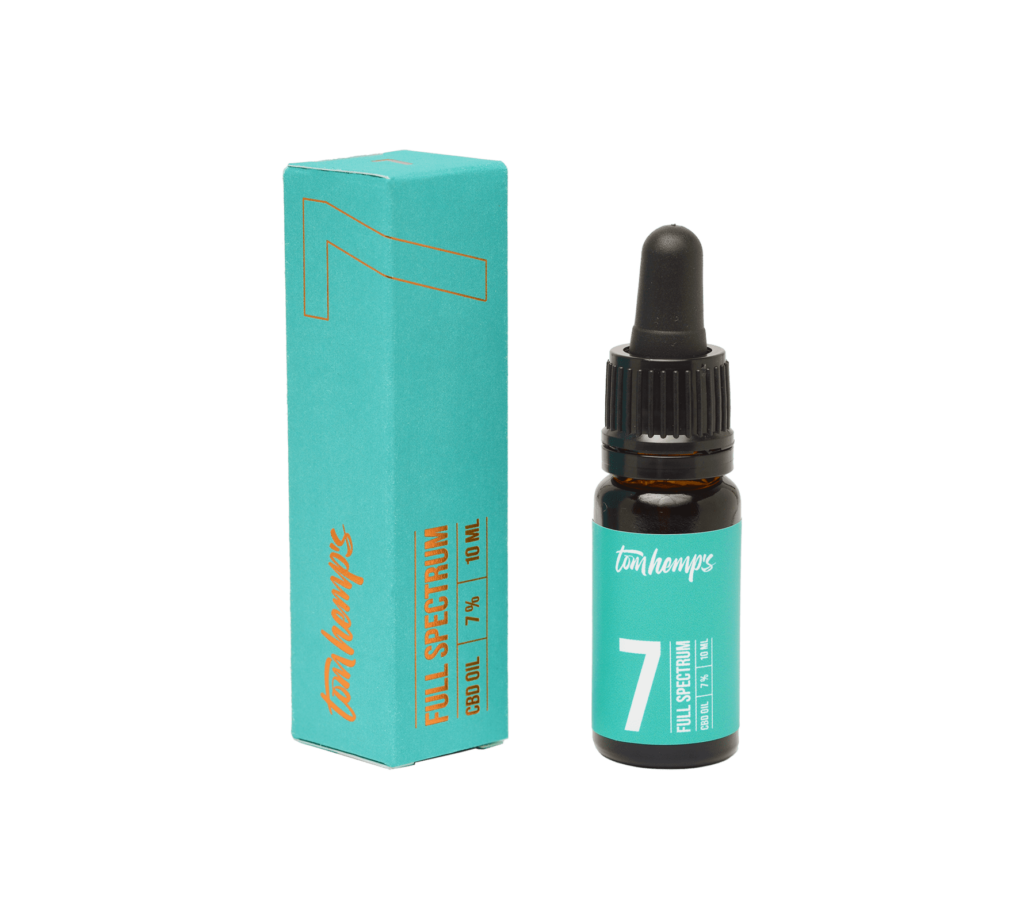 Tom Hemp's
Full Spectrum CBD Oil 7%
From

€

33,95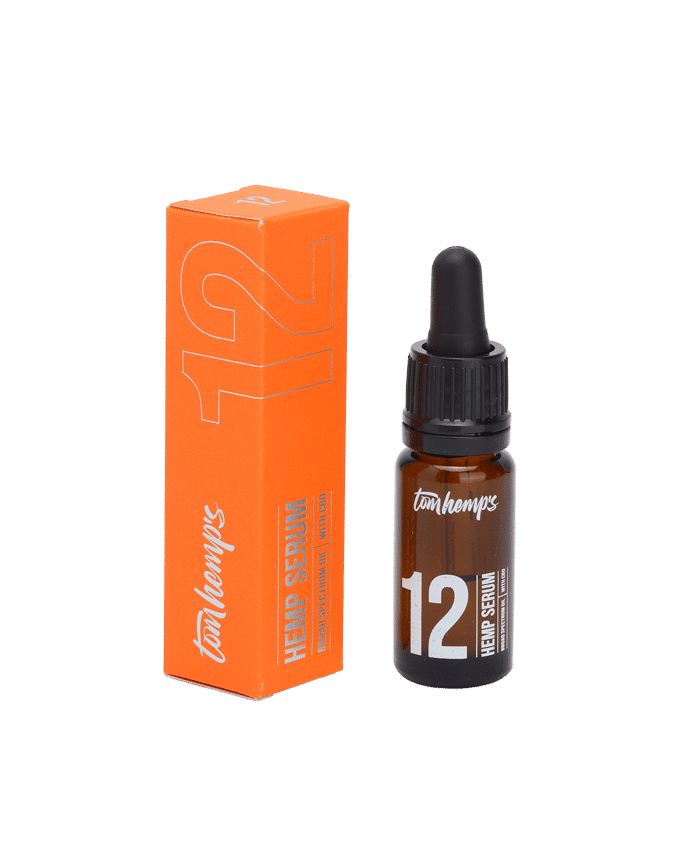 Tom Hemp's
Broad Spectrum CBD Oil 12%
From

€

43,75
Find inner peace with CBD – this is how you go about it!
You feel stressed and want to slow down your everyday life? With CBD and meditation, you can put the brakes on and find more serenity and inner peace. Simply sit down, close your eyes and go is the wrong approach. Please note that successful meditation requires more than just sitting cross-legged and saying "Om".
Step 1: Choose the right CBD product

CBD products with a THC content below 0.2 percent are perfectly legal in Germany. Therefore, you don't have to worry about anything with Tom Hemp's products. How high the CBD content should be, you decide yourself.
As a beginner, it is best to approach it slowly. For example, you can find CBD oil with 5% for your meditation. If you already have experience with meditation and want to intensify it with CBD products, you can also use our CBD oil with 18%.

Step 2: Create a feel-good ambience

Switching off and relaxing only succeeds when you feel completely at ease in space and time. Therefore, find a place for meditation where you can let yourself go. You should feel neither observed nor stressed.
Soft music, dimmed lights, pillows or a blanket can contribute to a comfortable atmosphere. Set up the place for meditation the way you like it.

Step 3: The correct implementation

You know best how to calm down the fastest. CBD can support you in this. Usually the breathing and awareness exercises are done while sitting.
Of course, you can also stand or lie down. For some people, walking slowly helps to clear the mind. Be sure to find your own rhythm. Mediation is about you and your mental well-being.

Step 4: Reflection on the experience

During meditation, only the moment counts. However, as soon as you return to your everyday life, you will notice what influence the experience has on your actions.
Reflect on what you were thinking about in your meditation and how you felt in that moment. Can the state of consciousness you have reached be further increased? If you have this feeling, CBD can be the right choice and support you.
FAQ
Which CBD products are suitable for meditation?
Both beginners and experienced people like to use CBD oil for meditation. The active ingredient enters the bloodstream directly through the oral mucosa.
Which terpenes have a calming effect?
The terpene myrcene contained in CBD is said to have a particularly calming effect. Likewise, the terpene linalool is said to have a relaxing effect.
What other positive effects does CBD have?
If you use CBD for meditation, you can benefit from many positive properties of the plant substance. Among other things, it helps to reduce stress and promotes the ability to concentrate.
Photo: Mariia Korneeva / Shutterstock